There can be so many benefits to crafting, especially for children. It can help to alleviate stress and build confidence. Whether it's drawing, colouring, writing or sewing, having a creative outlet can help children to express their ideas and feelings and in turn, feel better about themselves. To support Children's Mental Health Week, taking place on 1-7 February 2021, we've collated some easy and fun craft ideas and patterns that can be downloaded for free.
For more information and resources visit www.childrensmentalhealthweek.org.uk
The theme of this year's Children's Mental Health Week is Express Yourself so what better way to help the little ones in your life show off their creative side by letting them choose some fabric and sew a simple project? These fabric covered keychains require minimal materials and are ideal for using up any leftover fabric. Children can add their initials, buttons or floral motifs – anything they like! Click HERE for the free pattern by Jessica of Craftiness is not Optional. 
Who doesn't love dressing up as their favourite storybook character? If your child loves to play pirates then get them ready for adventures on the seven seas with this fantastic outfit by Emma Hardy. The various pattern elements make for perfectly achievable projects for children. Plus, they can personalise their make by incorporating their favourite colours and designs. Click HERE for the free pattern download and instructions.
This pencil and notebook case from Deena Rutter is perfect for children to fill with their favourite stationery items. Let them choose their favourite fabrics to create this simple but impressive make. You can find the free tutorial with step by step instructions here.
Pillowcases are a simple and versatile project where children can mix and match colours and fabrics while learning basic sewing techniques. We love this easy-to-follow tutorial by Ashley of  Make It & Love It. In this tutorial Ashley demonstrates how to make three different sized pillowcases in three styles. For a unique take, why not add some fun trimming or use contrasting topstitch?  Click HERE for the full step-by-step tutorial.
Getting into the outdoors is great for our mental health. With spring just around the corner this homemade bird seed ornament is a great for getting kids out into the fresh air and encouraging birds into the garden. Just make sure to keep these ornaments out of the rain. Click HERE for the free project by Heidi of Happiness is Homemade.
Create cards for a range of occasions using this simple and fun card-marking tutorial by Crafts for Kids. Need some supplies? Head over to CraftStash for a range of papercraft goodies. Click HERE for the free pattern.
Recreate your very own 'Very Hungry Caterpillar' with this fun and familiar project by The Spruce Crafts. The project requires a few simple supplies and can be created in an hour. Kids are sure to love the opportunity to recreate this classic storybook character. Click HERE for the free pattern.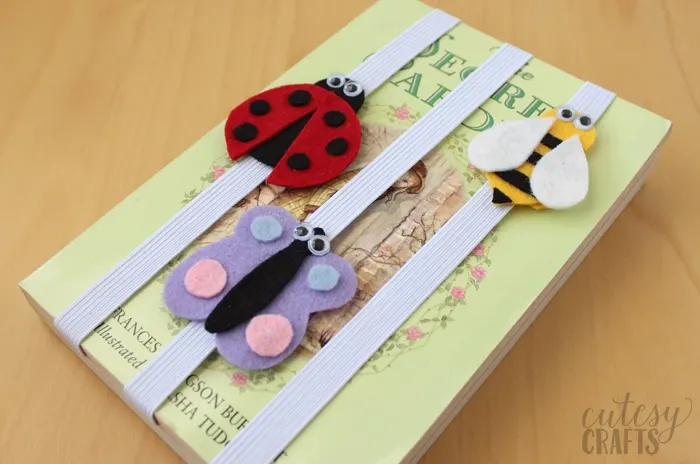 If they love to read or need a little motivation, these adorable bookmarks are great for keeping little ones entertained. The project requires a few simple materials including felt, glue and elastic and the pattern can be easily adapted so they can create an array of adorable critters. Click HERE for this free pattern by Jessica of Cutesy Crafts.
For more information and resources in support of Children's Mental Health Week click HERE.
Thanks for reading
For craft kits and sewing supplies, visit the Simple Sew shop. To see all our latest hints and tips as well as the latest make from our Simple Sew blogger team click HERE.